This Sports Camp Team went down in history as the only team from Manurewa Intermediate to ever win the Elite Camp. This is the top division where they competed against the top 8 intermediates in North Island for the title which is an accumulation of points in over 30 different sports. Students have to be well versed in a variety of sports to take the title and the team prepared themselves well. This is an example of where commitment, hard-work, dedication and the right attitude can be the key to success. These students athletes will continue with their homework club every Wednesday after school and they realise the importance of academics to form a well rounded Student-Athlete. Next up on the calendar are the AIMS games and a bunch of Zone-Sport Competitions. #StayFocussed #StayHumble #BeAtSchoolEveryDay
SPORTS CAMP 2019
TOTARA SPRINGS MATAMATA | JUNE 24 - JUNE 28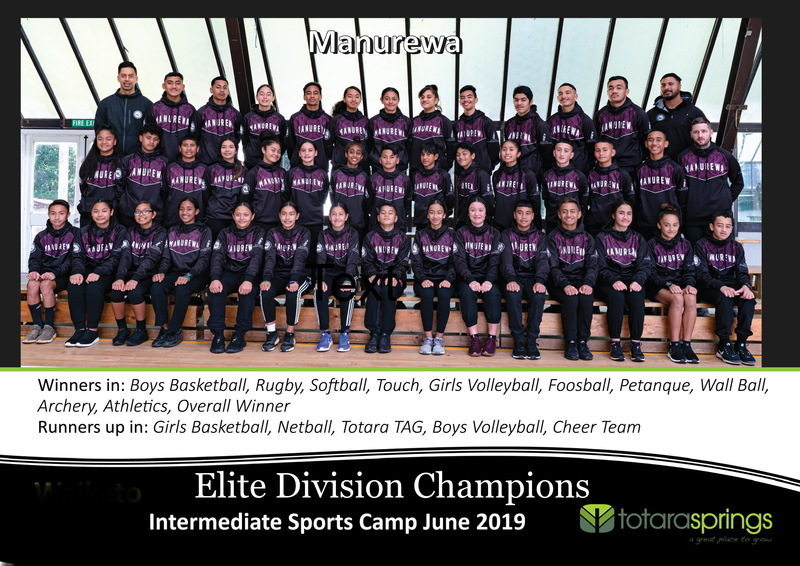 Our 2019 MI 76ers went down in history as the first team from Manurewa Intermediate to win the Elite Sports Camp. This is the top division where they competed against 8 of the top intermediates in the North Island for the title which is an accumulation of points in over 30 different sports codes. These schools included Glen Eden Intermediate (previous champions), Peachgrove Intermediate (Hamilton), Northcross Intermediate (North Harbour), Berkley Middle School (Hamilton), Rototuna Intermediate (Hamilton), Northcote Intermediate (North Harbour), Bucklands Beach Intermediate, and Mt Maunganui Intermediate.
Our team of students had to be well versed in a variety of sports to take the title and the team prepared themselves well. This is an example of where commitment, hard work, dedication and the right attitude can be the key to success.
---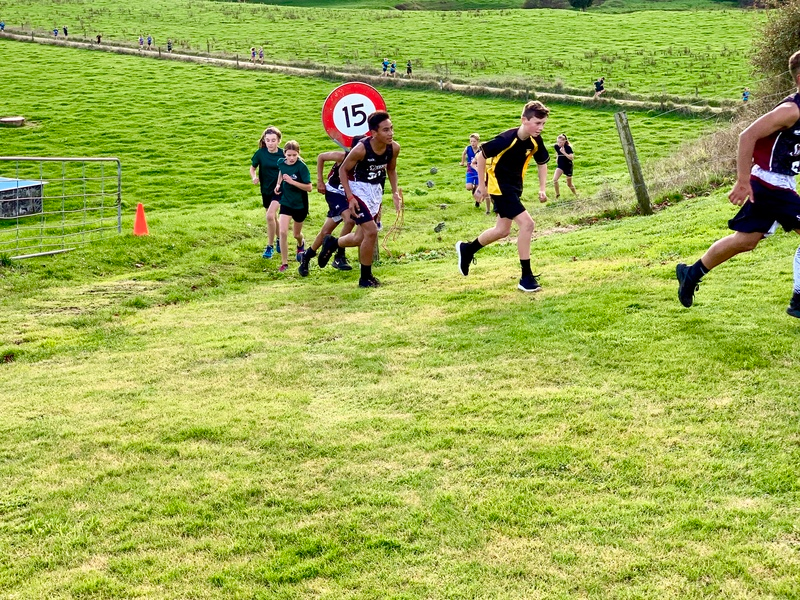 Day One
We arrived at Totara Springs with the welcoming of beautiful sunshine. The first challenge was to find our cabins and motel rooms and set them up quickly and tidily.
The first sports event for the day was the Cross Country. This was a 3km run filled with a range of hills. Each school could enter up to 7 boys and 7 girls. Our runners did very well. Our top runner was Billy Baice who finished in the top 30.
Soon after Cross Country had ended the smaller events of shooting, kayaking, archery and golf took place. Our athletes did their best in these events especially our archery duo of Semu Unasa and Teresa Fa'apu'e who finished in first place!
The final event before dinner was swimming. Our swimming team was Mellissa Work, Sienna Mackinlay, Johmel McLeod, Paula Tafea and Taylor Taaka-Tekaute. Although we did not place, our swimmers showed a lot of commitment and effort.
Day Two and Three
After 6.30am wakeups on both Tuesday and Wednesday the team prepared for busy and exhausting days! It was the start (Tuesday) and end (Wednesday) of the round robin for rugby, netball, touch, tag, girls and boys volleyball, girls and boys basketball, football, girls and boys hockey, tennis, petanque, croquet, softball, wall ball, and human foosball. Many of the squad played more than one sport. There was lots of running around after each game, as once one sport was finished, the students had 5 mins to get to the next sport.
We finished Tuesday losing our one game of girls hockey. On Wednesday we went down in our boys and girls hockey games which resulted in missing out on the semi-finals for these sports.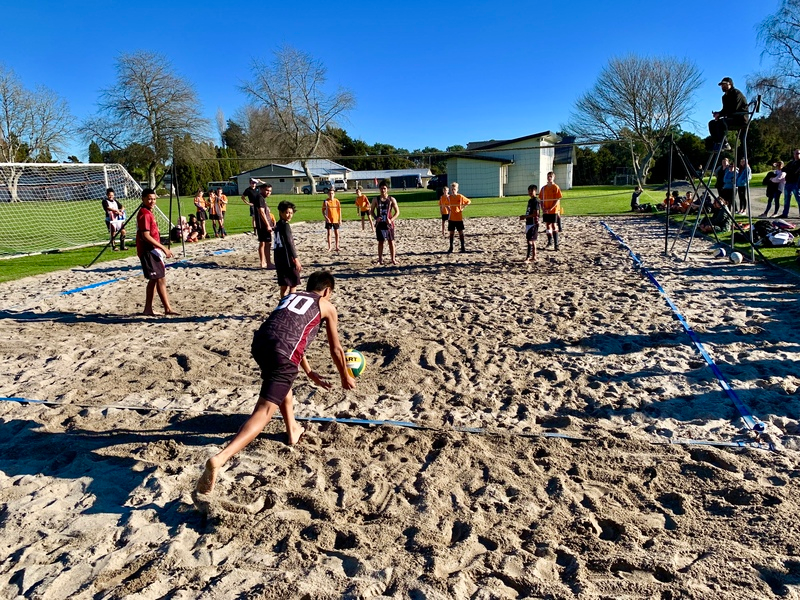 The highlight of the day was human foosball. After beating Glen Eden in a tough semi-final, we moved on to the grand final against a very good Berkley Middle School outfit. The games were played to the best of 3 sets, which are played to 5 points. We lost the first set 5-2. However, with the determination of our team led by Alfred Latulipe, we fought back to win the second set 5-4. In the final set, we continued to dominate the middle with the help of Jackson Hohaia. Adama Graham was on fire with his striking which eventually won us the final set 5-2. For a group who prefer the oval ball over the round ball, they showed that with heart and commitment, you can achieve what you put your mind to.
On Tuesday night were the indoor hockey games. Both our boys and girls teams had fun. During this time Billy Baice and Lupe Opeti-Finau represented us in the chess and draughts competition.
Indoor football was held on Wednesday night. Both of our teams enjoyed themselves. At the same time, Indoor Football was being played our boys Table Tennis team of Semu Unasa and Houston Howard competed in the Table Tennis comp. Our indoor bowls team of Teresa Fa'apu'e, Johmel McLeod, Mellissa Work and Lupe Opeti-FInau also played during this time. They did not win their games but improved throughout the night.
---
Day Four
Semis and Finals day!
The team woke up on Thursday morning and celebrated the fact that they had made 14 semi-finals! After a tough first couple of days, it was not going to get easier for the team.
We made semi-finals for rugby, netball, soccer, touch, tag, tennis, girls and boys basketball, boys and girls volleyball, softball, wall ball, croquet and petanque. This was a huge achievement, as we made the most semi-finals out of all 9 teams present.
After an exhausting first half of the day playing in our semifinals. We headed into lunch making the grand finals for rugby, netball, touch, tag, softball, boys and girls volleyball, boys and girls basketball, wall ball and petanque (yes, really! petanque!).
The students re-energised themselves with lunch and a well deserved hour recovery and rest before competing in their finals.
The results are as follows:
Finals
Rugby - vs Peachgrove Intermediate: Win 31-21
Netball - vs Glen Eden Intermediate: Loss 15-19
Touch - vs Northcross Intermediate: Win 5-4
Tag - vs Glen Eden Intermediate: Loss 1-2
Softball - vs Northcross Intermediate: Win
Boys Volleyball - vs Berkley Middle School: Loss 1-2 (sets)
Girls Volleyball - vs Berkley Middle School: Win 3-0 (sets)
Boys Basketball - vs Glen Eden Intermediate: Win 28-17
Girls Basketball - vs Northcross Intermediate: Loss 19-21
Wall ball - vs Glen Eden Intermediate: Win 2-1 (sets)
Petanque - vs Mt Maunganui Intermediate: Win 5-4
Cheer Night
The day finished off with cheer night where every school had to perform their chant/cheer/dance. The team put lots of energy into their performance and showed that not only are they talented in sports but also in performing arts. After a great day full of some great results we finished the night in second place for the cheer comp.
Day Five
It was the final day of camp but not the end of sports. The day started off with Athletics. Overall points placings were accumulated from results in Shot Put, Javelin, Discus, Sprint relay, Standing Jumps and Cricket ball throw. Each team accumulates points from each event. We finished athletics in first place, after placing first in all events except for Standing Jump (second).
After athletics was done students got dressed and ready for Sports Camp Prize Giving. It was a nerve-wracking time as we sat in anticipation of who would win the overall champions trophy. It was very close between 3 teams. We received first place certificates and trophies for athletics, rugby, touch, softball, girls volleyball, boys basketball, human foosball, wall ball, petanque and archery.
With the results going in our favour the MI 76ers were crowned 2019 Elite Sports Camp champions! With emotions on high, our team stood up and acknowledged the other teams in the form of the school haka lead by Adama Graham.
We would like to thank our parents and caregivers for allowing us to take part in an experience that we will cherish for the rest of our lives. Special thanks to Peter, Metua (Adama and Hinalei's parents) and Tu'a (Lupe's dad) for assisting us at camp. You all treated our students as your own kids, and you played a huge part in the recovery and success of our students. Thank you.
Secondly, a big thank you to Mr Byrne-Hansen and Mr P for coming down to support us on Thursday night and bringing us some goodies which our tummies enjoyed!
We would also like to thank Mr P for your work in assisting in Mr Peilua with trainings. Thank you, Miss Lee, for working with our netball team, and helping us to develop as a team. To Mr Tanaki and Mr Toa, thank you for helping us with our chant routine. Your expertise and knowledge on how to perform is what made us perform with pride. Thank you Mr Peilua, Mr Bartlett, and Mr Shephard for not only coaching and managing the team but also making sure we were well prepared both mentally and physically leading up to camp and also throughout.
Last but not least we would like to thank our principal Mr Taylor for giving us the opportunity to represent our school at Sports Camp. It is something we will cherish for years to come. We hope you enjoy the silverware we brought home!
MI 76ers Squad:
Leadership Group: Jackson Hohaia (79), Bella Manu-Moore (71), Tarzan Tagoai (79), Ellena Toelupe (23)
Jaydon Holland (79), Daniel Simi (23), Braydon Sapolu (79), Houston Howard (23), Semu Unasa (79), Adama Graham (23), Taylor Taaka-Tekaute (79), Paula Tafea (23), Nigel Puea (79), Victor Field (23), Billy Baice (23), Daniel Lio (23), Deyaelo Walker (25), Tyreese Oaariki (33), Alfred Latulipe (70), Xavier Mege-Douglas (62), Tre'Vahn Dave (23), Benji Amosa (79), Pearl Burrows (79), Chevy Brough (23), Jayda Rangi (79), Alyssa Uluheua (23), Tear Andrews (79), Sienna Macklinay (23), Carol Fuamatu (79), Jazlyn Senice (23), Lupe Opeti-Finau (79), Savannah Farrar (79), Geavani Barnes (79), Teresa Fa'apu'e (71), Mellissa Work (11). Hinalei Graham (79), Hanaliyah Sifaala (23), Johmel McLeod (79), Jaedah Hansen (23), Miako Taufa (79)